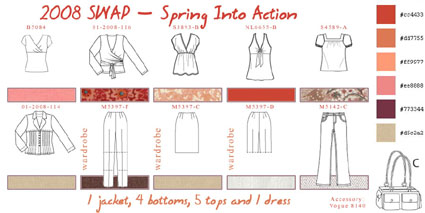 I am sad to find out that BWOF doesn't qualify for the wardrobe portion of the Timmel SWAP. But that's OK… here is yet another revision!
It is actually easier on me to change out the pants, shorts and skirt for McCall's wardrobe 5397. There aren't any cute details like topstitching or pockets. I kinda feel like I'm cheating!
I did leave the BWOF jacket and wrap, of course. That jacket is just the cutest.
Thank you for all the help tonight!! I hadn't even made it over to the rule list yet and had my answer within a short time of posting here. That is amazing! 🙂