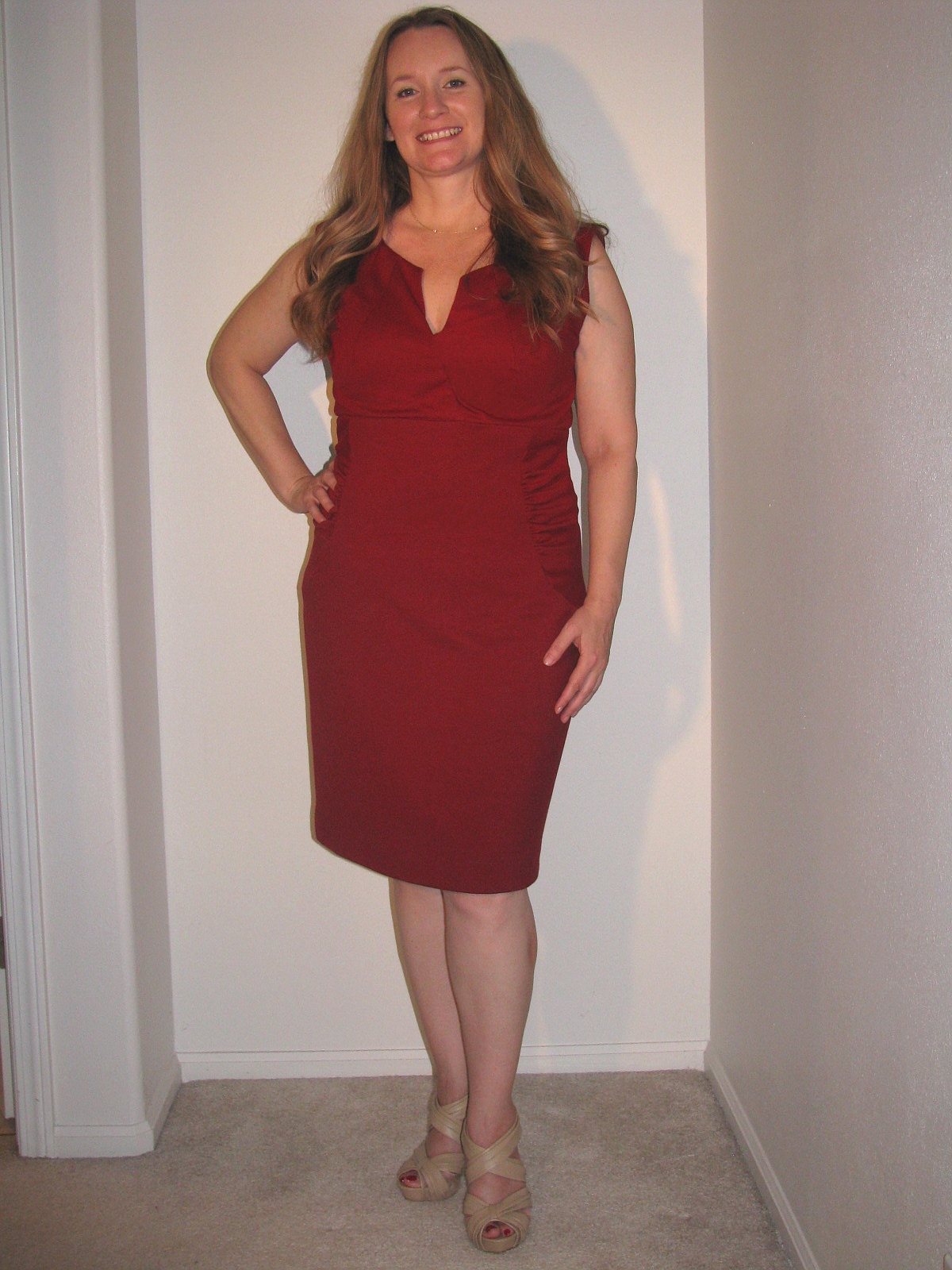 My first Lekala pattern and I just love the outcome.
This was my test garment, however, it fit perfect without any alterations and quickly became a go-to dress for me. I have worn this dress three times already.
Lekala 5860
Inspiration Dress, Adrianna Papell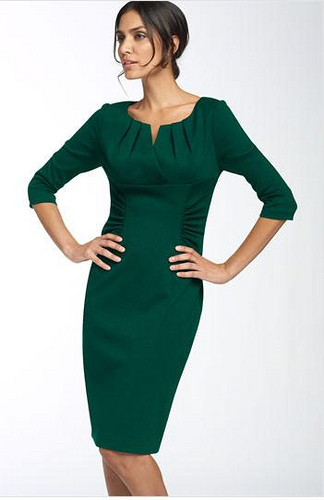 Pattern Description: V-neck dress with neck darts, lined bodice, empire waist and ruched skirt.
Fabric Used: Ponte Knit, bodice lined with Ambiance.
Suggested Fabrics: Tight silk dress fabrics from natural or mixed fibers
Pattern Sizing: Custom ordered to my measurements.
The pattern pieces fit together beautifully. The sizing was perfect!
Alterations: None except I did sew the front V closed so the two panels would not fall open.
Design Changes: Removed the sleeves and changed the armscye on the fly. The next sleeveless version would need the armscye redrawn properly as hits a bit low on me in front and the back isn't quite right.
Sewing Notes: S/A 3/8″, Hem 1 3/4″
Likes/Dislikes: Like the neckline pleating and the ruching of the skirt side panels. Love the high waistline and overall design. It is very comfortable to wear as the neckline is not too low after sewing the two panels shut. I wanted to make sure there was no gaping each time I bent over.
The only dislike would be that the pattern instructions were in Russian and translated poorly. I tried to translate the pattern from Russian to English but had a hard time with the translators. As I had no idea what the instructions would have me do, I had to think about each logical step and forge ahead. I pulled a similar Vogue pattern and figured everything out.
I had to twist my brain around this one but I enjoyed the challenge.
Tried and True (TNT), One-timer, or Pattern Graveyard: Definitely TNT. I can see many more versions of this dress. I would like another one in ponte with sleeves. I saw a very similar dress with a ruffle around the neckline in a woven. Linen would be a good choice of fabric to try.
I am impressed with Lekala! I have enthusiastically ordered a few more and hope to enjoy more success.
Lekala 5860
The pattern designer's website, pattern information: