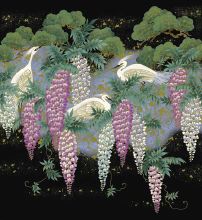 It blows my mind that this dress is made from quilting cotton!
If you are interested, you can click the image to view a slideshow of outfits since the inauguration.
Such a pretty dress. I'm thinking I could self draft this design myself, at least the bodice and then frankenpattern the skirt. I really like the style.
I am intrigued by the fabric as well. It sure is interesting how the designer placed elements for effect. You have to look hard to see the cranes. In a way, the dress looks almost ombred.