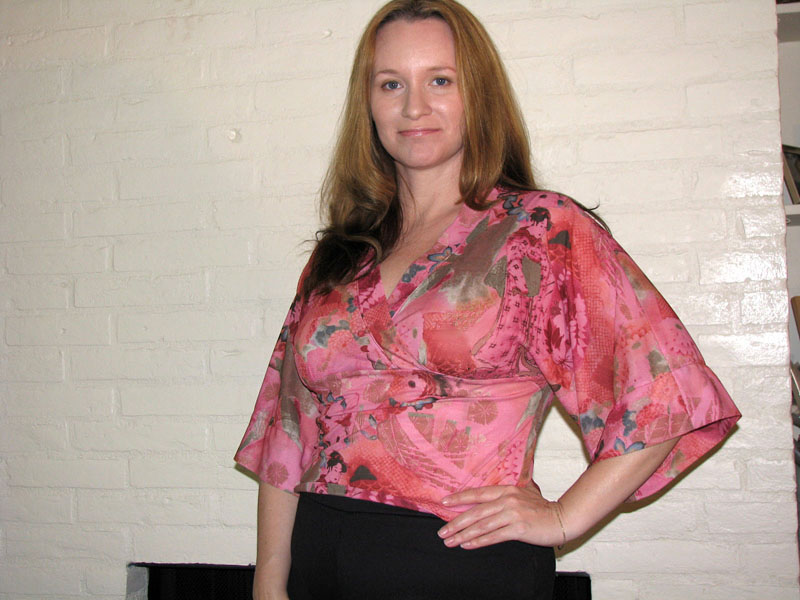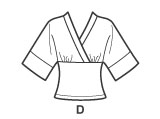 Simplicity 4020 Kimono Top, View D. This pattern calls for stretch knits only. Fabrics recommended: Lightweight double knit, stretch velvet, two way stretch novelty knit fabrics, stretch lace.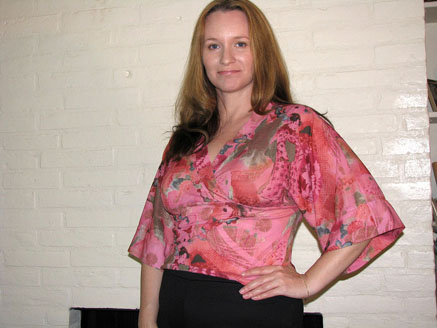 I used stashed fabric purchased from EOS called Japanese Geisha print triple mesh. I had about 1 1/4 yards and it was fun squeezing out this top plus a pair of panties.
I traced this off in straight size 18. The muslin went well but I should have worn it out once or twice to be sure.
Once I started cutting and assembling this fabric, I realized it would have been a nicer outcome had I done a FBA. It is okay as it is but a bit more room would have been better.
In addition, I should have added length to the hem. Definitely will add about 2″ next time.
I think this is an easy pattern. All three styles are flattering but this one is my favorite. I have view C of this pattern in mind for summer.
Kwik Sew 2908. Misses Panties designed for stretch knits only. Fabrics recommended: Lightweight cotton Lycra®, stretch lace, sheer Lycra®, nylon Lycra®. The pair shown is triple mesh.


This is the only undergarment pattern I've tried so far and it offers a good fit. I traced off the pattern and found the crotch piece a bit large as other reviewers had reported. Once that issue was altered, the first few pairs were sewn and tested with various lace and elastics.
Of course, I won't show you any of the test pairs because they are ugly. We're talking brown knit with turquoise trim and my sewing was wonky and scary to behold. Let's just say it took me quite a few pairs before I felt comfortable showing these to the world!
I'm in the habit of cutting out some new panties each time I cut a new top. Plus, I've found old t-shirts come in handy, so those get cut up and saved for later as well. One day, when I've accumulated seven or eight cut out pairs, I'll sew them up and start the process over again!