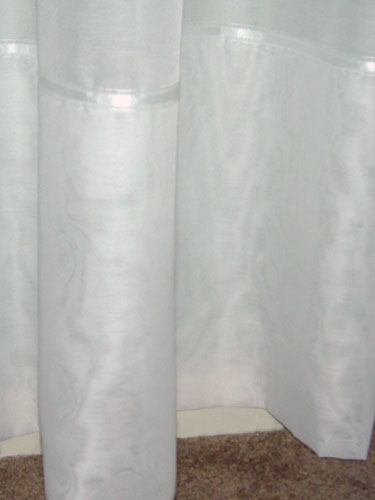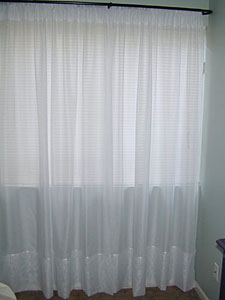 These panels were easy to sew and advanced my windows one step closer to the beautiful couture inspired bedroom I picture in my head. My creative process sure didn't save me time or money but I adore the final outcome.
I found a thin cotton blend batiste on sale in the home dec section at Joann and purchased 3 yards of white, brought it home and proceeded to cut it straight down the middle to create two panels. I was quite pleased with myself! Of course, I hung one panel with a few pins and stood back and soon realized it didn't look so good. It was just blah and flat. It needed more width to create soft gathers. So everything was folded and put away to someday become garment lining. Lesson learned.
Back at Joann, I purchased 6 yards 🙂
Then I turned down 5" twice and blind hem stitched what I intended to be the bottom of each panel. It occurred to me that I had enough length to create a really deep hem instead of trimming excess and sewing a rod pocket. So, I pinned up 12.5" to see how it would look and even though it looked alright (although it was missing something) it was now upside down from how I originally started out sewing these panels LOL.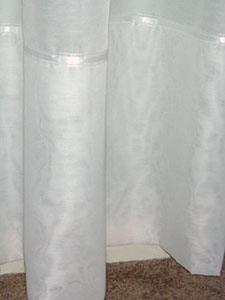 Not satisfied yet, off to Joann I drove again and found the perfect embellishment. Two bands of organza like ribbon sandwiching a shiny middle band of ribbon. Perfect! I applied the ribbon to the sheers and love how it looks. I didn't bother finishing the fabric at the sides, just left the nice fabric selvage exposed.
Since these are the inner sheer panels, I must figure out how to sew drapes next. I have 10 yards each of white blackout lining and linen. I plan to do inside ties at the top, which will secure to the rings I ordered from Pottery Barn. The tie ends will flip to the outside and hang down to create a casual elegance. We'll see, wish me luck 🙂