This is my first in a series of reviews of various views of Simplicity 4020. I've sewn a handful of tops from this pattern and admit it is a favorite of mine.
I'm doing taxes and developing a software project right now so sewing isn't in the forefront, but I'm managing to progress a bit each night.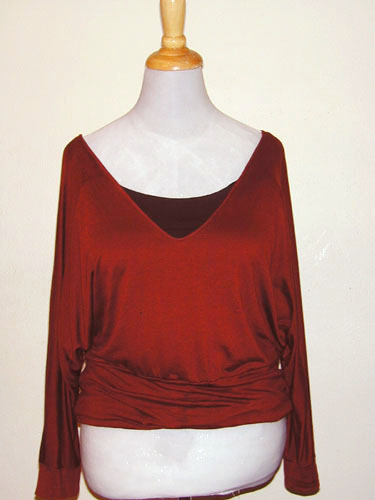 I came across this Metallic Dolman Top on Nordstrom's site and immediately knew it was a marriage made in heaven between view A and a Textile Studios rayon modal knit sitting in my stash. I love this fabric… just look at the sheen. Ah! I have another cut in smokey blue waiting for inspiration.
What tickles me most is the money I saved. I paid $15 and some change for 1.25 yards and made this $200 top! WOO HOO!! That is why we sew. Oh, and because it is challenging, and rewarding, and fun (especially when there is a contest to enter… oh, and don't tell anyone it is really on sale at Nordy's as that just ruins my fun LOL.)
I cut a wide V judging on the depth of my dress form's bust. I turned down a 3/8″ allowance, top stitched the neckline, then trimmed the excess from the wrongside. I'm second thinking my construction choice.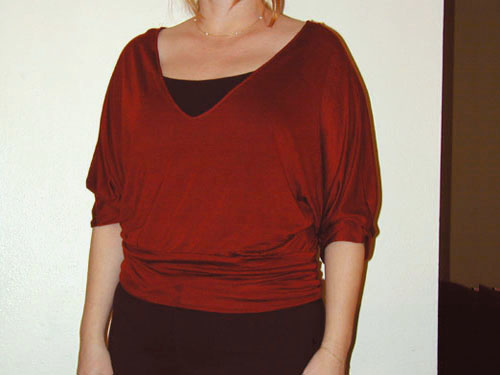 I am not sure the neckline will hold up over time. I'll likely approach this with a different game plan if I make another top like this. I think it might be better to cut a second front bodice or made a V facing as it would benefit from the structure.
Live and learn. It is wearable, so all is not lost.
This is really comfortable although a bit 80's bat wing throw back, but that is okay. It also pairs well with my KS3115 cami!