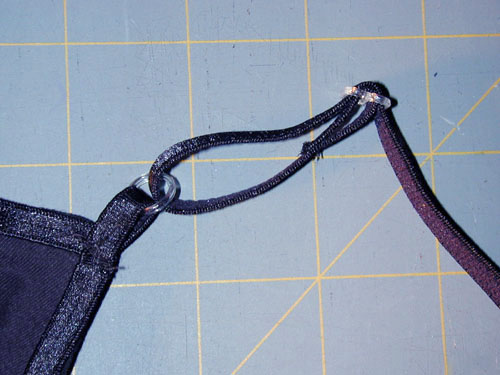 I have a little black RTW top with shelf bra that is completely worn out, so I modified this TNT pattern to make a new one.
I really like the adjustable straps on the old top and cannabalized the rings to reuse in my new top.
I also like the back of the old top. It isn't cut straight across like this pattern is, but rather mirrors the front. I tended to wear it under other tops like a camisole. Too bad I wore it out.
I put together this tip for anyone who doesn't have a RTW top hanging around to look at. It is simple to do and comfortable.
Click each picture for a larger view.
Materials needed:
1/4″ bra strap elastic (plush) or 1/2″ fold over elastic
(4) 3/8″ Strap Rings
(2) 3/8″ Strap Slides
1) cut (2) shoulder straps 11-12 inches (mine are 11 3/4″)
2) After applying elastic around the armhole, leave extra elastic to attach rings to the top. These raw elastic extensions on front and back of top are about 1 1/4″ long.
3) Attach plastic ring to each raw elastic strap extension on front and back of top and tack down with straight stitch
4) Sew one slider ring at one end of each shoulder strap
5) Feed strap up through front ring with strap wrong side up, top right side up and pull strap through lower slider
6) Pull strap through upper slider
7) This is how it should look
8) Slip strap through back plastic ring and secure with straight stitch, try on and adjust to fit
I used cotton lycra, no longer available from Seattle Fabrics for the shell and 11oz rayon/lycra jersey for the shelf bra from EOS
Probably the only problem with this top is the elastic application.
I ignored the pattern instructions and sewed the shell and shelf bra wrong sides together and then turned to the right side. It was a bit bulky after applying the elastic on top, so I'll go back to following the pattern instructions next time.
I cut the front and back from the front piece on the fold. This is how the back looks!
Next time I will remove 1/2″ from the center back before cutting on the fold. I really like this back better than the pattern drafted back piece but it is a tad too wide.
I also added 2″ below the waist so I can tuck it in.