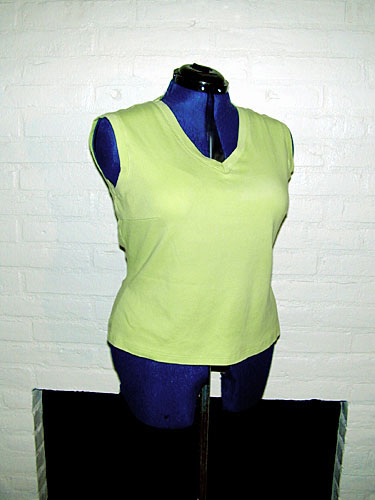 Kwik Sew 3115: I made this top last year and thought the v-neck was too high. Pulling it back out this year was a good thing as I've learned enough to deepen the v with some confidence.
I deepened the v-neck by holding up the pattern to my new dressform and determining the desired depth, then I calculated how much to add to the neckband by measuring the seamline and reducing that measurement by 2″.
I traced a medium and added 1″ FBA to play around with it. I'm not sure I like such a deep dart in a knit top although it automatically looks like a nicer top. It might be fun to divide the dart between the side and v-neck (deepening it more!) or smoosh out the dart all together.
Overall, I really like this top!
I'm going to sew bunches of these tops for the gym and everyday wear. I love sleeveless tops, especially knit tops, and I'm glad to have another style to throw into my closet.
Another new TNT for me! This is also the first pattern which I've managed to work out the kinks on each of the three views. A triple TNTer!