I often remind myself that no matter what I am working on or learning, this place in my craft is exactly where I need to be. While I'm not a prolific sewist, I am happily sewing as much as I can along the way to a higher skill set.
To me, the best part of sewing is that one decision leads to another decision and time slips away when I'm in the sewing zone. I enjoy the entire process of sewing garments and strive to incorporate new techniques and special details into my work.
My passion is self mastery, being good at something and then trying to get better.
Interested in sewing your way through your wardrobe, leaving a mark on the world through sharing and learning from one another? So am I. Let's connect. Facebook: Journey to Couture
I love sewing. I love the ongoing string of decisions one must make from beginning to end. I love the research, the trial and error, the fabric hunt, the anticipation of trying on a new muslin and then the problem solving in pursuit of the perfect fit.
Each time I complete a garment, I feel I've increased my skill set and sharpened my decision making skills. It doesn't hurt if I got something cool to wear out of the journey.
Tidbits about me
… cooking was my passion before I found sewing …
… I enjoy photography and prefer being behind the camera …
… I've been sewing since Feb 2004 …
… I enjoy sewing on my Juki HZL-DX7 …
… I truly enjoy self drafting patterns and working through a design concept…
… I sing in a Masterworks Choir and a Symphony Chorus …
… Lekala challenges me to think …
… my mind's eye thinks I'm still thin …
… I'm not …
… I am hilarious, however, just ask my kids …
"Desert rose.
Dreamed I saw a desert rose.
Dress torn in ribbons and in bows…
like a siren she calls to me."
In God's Country, U2


Here is the graphic that I made probably 10 or so years ago for Ann. I still like it and use it as a placeholder graphic around here.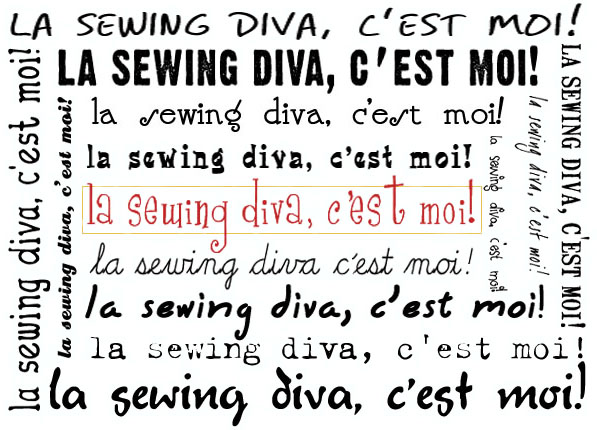 "You are ALWAYS with yourself, so you might as well ENJOY the company."
Diane Von Furstenberg